Build up your Slams Play.
Get on your toes: no more fear with Slams!
---

Marti Ronemus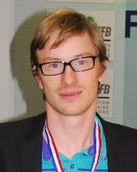 Matthias
---
Subscribe to Slams Level 1 and receive a new issue to play each month.
Each issue has 3 series of interactive hands and 2 quizzes to help you practice your Slam play.
Play Level 1 Sample Hands Play Level 1 Sample Hands Meet Matthias Huberschwiller's crystal clear explanations in each issue with a series of 6 carefully prepared hands.
---
Purchase Slams Level 1